Local History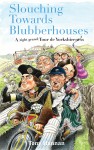 As seen and heard on the BBC and Sky News…
By Tony Hannan
Yorkshire … God's Own County … The Broad Acres … the Texas of England … a home to some of the UK's most captivating landscapes, coastlines, food, literature, history, music, tea, film, sport and beer, when Britain's largest county and its residents get you in their grip, you are unlikely to escape soon.
Phenomenally successful venue for Le Grand Départ and only recently voted the Leading Tourist Destination in Europe – beating off the likes of Paris, Rome, London (ha!) and Vienna – the eyes of the world are on the land of the White Rose like never before.
Slouching Towards Blubberhouses is a timely, in-depth and very often comical look at a county that is by turns friendly, uncompromising, boastful, blunt and maddeningly self-aware. It digs beneath the eeh bah gum clichés of whippets, clogs, flat caps and moth-eaten wallets to explore what really makes Tykes tick. And it wonders whether coming from Yorkshire still means owt in the socially diverse 21st century.
So what are you waiting for? Enough with the chelpin' and get on your bike. We're off on a right grand Tour de Yorkshireness.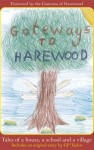 Tales of a house, a school and a village
By the pupils of Gateways School
Foreword by Patricia, Countess of Harewood
With an original short story by GP Taylor
The settlement of Harewood can trace its history to the Bronze Age. At the heart of this picturesque Yorkshire village today lies Harewood House, well known for its own fascinating and distinguished family tree.

More Details
Harewood has seen many tales unfold down the centuries and countless changes have altered the face of the village. This book is a treasury of inspirational writing and artwork by the pupils of Gateways School, an establishment with its own part to play in the story. Every contribution captures the beguiling spirit of Harewood. Gateways to Harewood is a special project, the like of which has never before been undertaken. It is unique in its desire not merely to document historical facts, but also to utilise them as a perfect springboard for creativity.