Matt King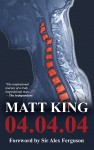 CURRENTLY OUT OF PRINT
By Matt King
With a foreword by Sir Alex Ferguson CBE
PAPERBACK EDITION
On the 4th April 2004, Matt King's life changed forever…
Making his first tackle as a 17-year-old professional rugby player for London Broncos Academy, his neck snapped. A happy-go-lucky teenager with the world at his feet; his life, as well as his spinal cord, appeared broken.
But, showing the same spirit, resilience, wit and courage that characterised him before the accident, Matt overcame the severe trauma and rebuilt his life; gaining a degree, a high-profile job in the legal profession, became a successful mouth-painter, participated in marathons and carried the Olympic torch in 2012.
Awarded the OBE for his charitable work, which also includes giving motivational speeches to some of the country's leading organisations, his is a story of the ultimate triumph of human spirit.
Two years in the writing, 04.04.04 is an unflinching account of his upbringing in Bedfordshire, his nine-month stay in three hospitals and the arduous road to rehabilitation.
"Everything changed in that split-second on the pitch and my goals and aspirations altered along with it," he writes. "But it didn't change the person I am or the fact that I want to make the most of this life."
This is one of the most inspirational, remarkable and affirming stories you will ever read.
Afterword by Richard Lewis CBE.
PAPERBACK EDITION