Subscribe to Forty20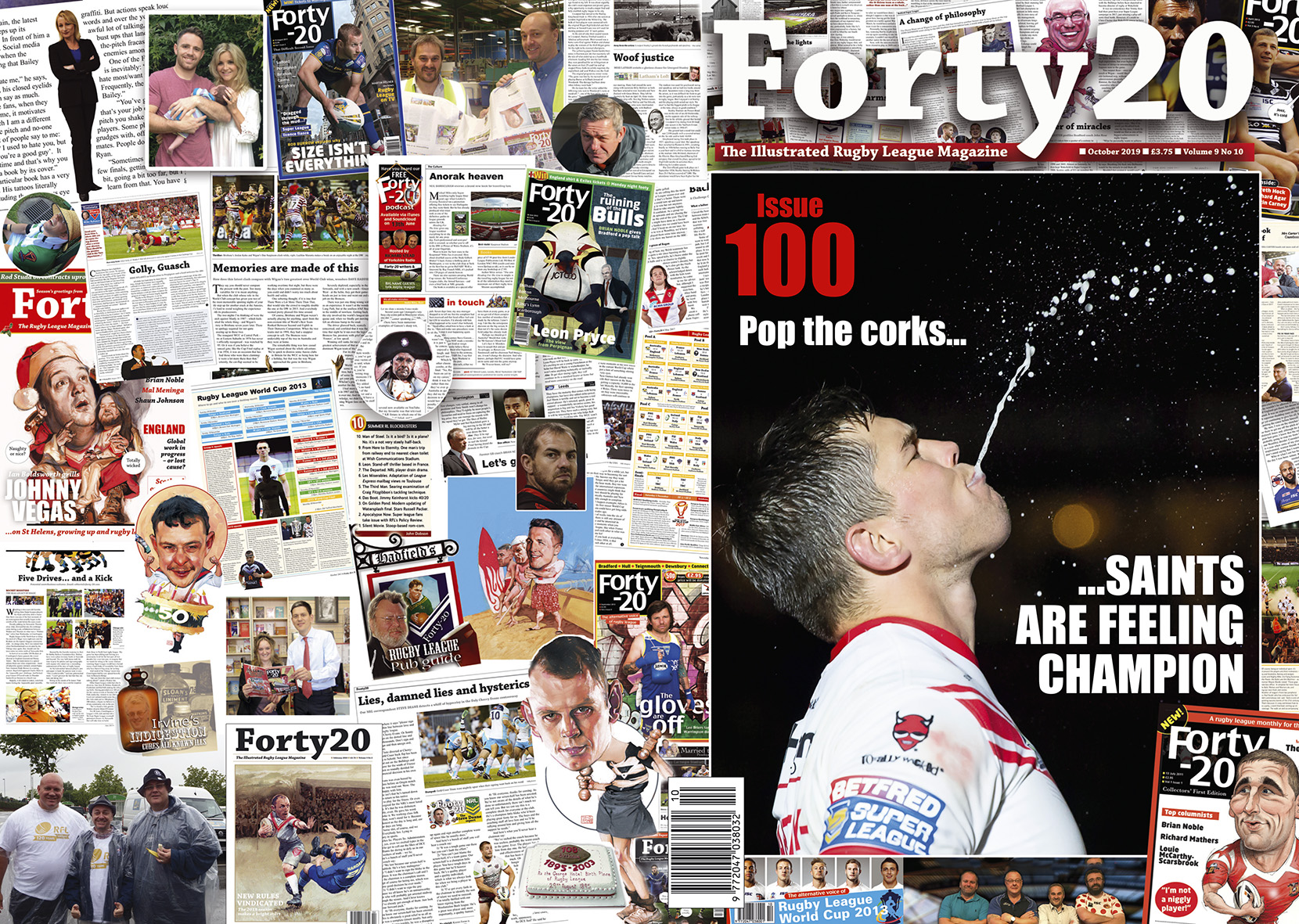 Published on the Friday closest to the 13th day of the month – Forty20 is the alternative voice of rugby league. Intelligent, thought-provoking, informative and fun, we cover rugby league at every level.
Forty20 features thought-provoking articles by the game's most respected writers and best-known personalities – including former Great Britain coach Brian Noble; Leeds forward Stevie Ward; Sky Sports presenter Angela Powers; Workington Town coach Leon Pryce, broadcaster Martin Kelner; comedian Ian Boldsworth; and colourful St Helens prop Louie McCarthy-Scarsbrook among others.

Forty20 contains fascinating face-to-face interviews with rugby league's most engaging personalities, be they in Super League, NRL or anywhere else in the world.
It values every rugby league club or nation, whatever their geography, playing standard or version of the code, from Barrow to Brighton, from Bradford to Belgrade, from Perpignan to Parramatta to Papua New Guinea.
Bright and witty, punchy and intelligent, Forty20 is unafraid to grapple with the big issues. It brings you front-line reports, taking rugby league seriously but not too seriously.
And Forty20 has it's very own free app for iPad and iPhone.
Download it now at the iTunes app store
If you would like to join our ever-growing band of readers, please take out a 12-month postal subscription. At a cost of just £37.99, you will effectively be saving £7 a year, earlier than it hits the streets, postage and packing included. The high street cover price is £3.75 a month. UK readers can subscribe by credit or debit card via the Paypal button below.
NB: ALL SUBSCRIPTIONS WILL START WITH THE CURRENT ISSUE UNLESS OTHERWISE STATED. PLEASE CALL 0113 2259797 IF YOU WOULD LIKE TO START YOUR SUBSCRIPTION WITH BACK ISSUES OR A FUTURE EDITION.
Overseas subscribers – ie Europe, Australasia, Asia, Africa and the Americas – and anyone who prefers not to subscribe online should call 0113 225 9797 during UK office hours (9.00am-5.00pm, Monday to Saturday). Overseas prices: Australia/Asia: £87. Americas/Africa: £87. Rest of Europe: £70
Alternatively, UK subscribers may send a cheque for £34.99 made payable to Scratching Shed Publishing Ltd to 47 Street Lane, Leeds, West Yorkshire, LS8 1AP.
If you have moved beyond old-fashioned ink and paper and would prefer to subscribe to an online e-version available to mobile devices, visit Forty20 digital
Get on board with Forty20. The independent and alternative voice of rugby league.
Subscribe
UK SUBSCRIBERS:
£37.99 FOR 12 ISSUES
Twitter
Stay in touch with the latest news and views by following @forty20magazine
Contact details
Contributions: editorial@forty-20.com
Advertising: advertising@forty-20.com
Subscriptions: subscriptions@forty-20.com
Distribution: distribution@forty-20.com