Cricket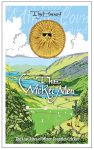 By Tony Hannan
It's Britain's hottest summer since 1976 and cricket is in a sweat of transformation. Audiences no longer care for long-form County Championship fixtures, traditional touchstone of the calendar. They prefer flash, bang, wallop! Or so the experts suppose.
Where though does that leave those twenty minor counties from Newcastle to Norfolk who for the last 125 years have provided a stepping-stone between recreational cricket and the first-class county scene?
Come 2020, the venerable Minor Counties Championship will be blown away like dandelion seeds on the breeze, to be replaced by a freshly branded and 'more marketable' National Counties Championship.
Well, that was the plan. In 2018, few had yet heard of Covid-19. What they did know was that their beloved competition was under existential threat and those to blame were at Lord's, more interested in such innovative concepts as the promised new 'Hundred' than bolstering that which had stood the test of time.
Tony Hannan, author of Underdogs, spent what turned out to be the penultimate Minor Counties campaign in the company of Cumberland CCC, amid the dramatic lakes, fells and mountains of Cumbria. And echoing that dramatic terrain, tells a story of ups, downs and a few surprises.
A team of journeymen skippered by Gary Pratt – who famously ran Australia captain Ricky Ponting out during 2005's Ashes series – are but one thread in a tapestry that is by turns earthy, lyrical and amusing.
The Wicket Men draws stumps on a mostly ignored but emblematic level of cricket, a pastime whose arcane rhythms and rituals are rooted in English folk tradition.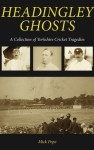 A Collection of Yorkshire Cricket Tragedies
By Mick Pope
Lest we forget … on the 150th anniversary of Yorkshire cricket:
They shared three common threads – Yorkshire, cricket and tragedy
Compiled by Yorkshire cricket writer and researcher Mick Pope, Headingley Ghosts is a dark collection of over 60 Yorkshire cricket biographies, spanning more than 180 years of the game in the county.
From the Sheffield pioneers of the 1820s to the modern tragedy of David Bairstow, this haunting book – through original research and a wide selection of rare images – recalls what became of these tragic Yorkshire cricketers beyond the boundary.
They died young, they died old; they died in obscurity; they died in poverty; they died on the road, in the air and on the rail track; they died by their own hand; they died in war and they died fighting sickness – collectively they are Headingley Ghosts.