They walked on water…
NEW BOOK TELLS THE STORY OF RUGBY LEAGUE'S MOST FAMOUS MATCH
The official launch of David Hinchliffe's new book, 'They Walked on Water' – the untold story of Wembley 1968, will take place on the 45th anniversary of the match, which is still regarded as the most iconic in rugby league history.
David, the hugely respected former MP and lifelong rugby league fan and advocate, will be at the Cats Bar at the Rapid Solicitor's Stadium, Wakefield on Saturday 11th May from 11am along with some of the players from the Wakefield and Leeds sides who donned boots that never to be forgotten day, as Leeds triumphed 11-10 in controversial circumstances and monsoon conditions.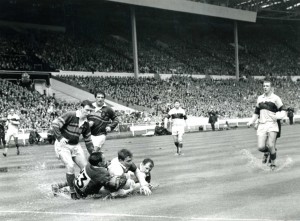 Bev Risman (Leeds and GB) and Ian Brooke (Wakefield Trinity and GB) will be speaking at the launch alongside the author.
"Although it has taken the best part of an adult lifetime, this was a book that I just had to write," Hinchliffe said. "The game, and the injustices contained in it from my perspective, have been gnawing away at me ever since."
"As a Wakefield fan, I was convinced that a major miscarriage of justice had taken place and that the focus on Don Fox's dramatic missed kick at the end and accompanying Eddie Waring commentary that has gone into folklore was only a small part."
"In looking at contemporary reports, gathering reminiscences and interviewing those involved, I uncovered tragedy and misgivings that reshape perceptions of that day. I might not have changed my mind about the fact that Trinity were robbed of the double but my perspective has altered and writing it has been a cathartic process after all this time."
Over a dozen members of the Leeds and Wakefield playing squads from the 1968 Final have so far confirmed they will be present and many others who have also contributed to the book, including fans there on the day, will also be present.
The launch is open to members of the public and unique, signed copies of the book – priced at £13.99 – will be on sale.
Proceeds from the book are being donated to the Rugby League Benevolent Fund
Photographers & reporters welcome, review copies available