Poetry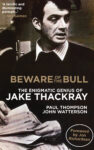 (NB: THIS IS PAPERBACK VERSION. HARDBACK CURRENTLY UNAVAILABLE)
The labour and the love seep from every page. For Old Molly Metcalfe, for Leopold Alcocks, for Sister Josephine, but mostly for yourself, if your hands aren't too encumbered, gather a book or two for Jake…" – Jon Richardson
"A timely paean to a velvet larynxed, storytelling wonderman…" – Cerys Matthews
by Paul Thompson and John Watterson
Beware of the Bull – The Enigmatic Genius of Jake Thackray is the critically-acclaimed first biography of the late, great singer-songwriter.
Admired by Neil Gaiman, Jarvis Cocker, Alex Turner and Thea Gilmore, among others, Jake was one of the greatest and most original artists of the twentieth century; a unique talent and master storyteller whose songs are full of wit, poetry, irreverence and humanity.
The book reveals a life as extraordinary as his writing: difficult upbringing in the terraces of Leeds; strict Catholic education; transformative experiences in France and Algeria; time as an inspirational, unorthodox and highly creative teacher; meteoric development as a writer and performer; subsequent discovery by the BBC; Abbey Road recordings and influence on The Beatles; fame, fortune and remarkable television career… and Jake's rejection of it all.
It is a story of a complex, charismatic and self-effacing man whom many loved, but few understood. Beware of the Bull was written with the full support of the Thackray family. Exclusive access to personal papers has allowed for the inclusion of a wealth of rare poems, photographs and 'lost' lyrics.
This paperback edition comes with a new foreword by the comedian Jon Richardson, an afterword by the authors, and further appendices with author Neil Gaiman and the distinguished conductor and composer Sir William Southgate.
*Among the Daily Telegraph's pick of the best music books of 2022*
Paperback – 512 pages
*Postage and packing included with UK orders only. Overseas customers may call us direct on 00 44 113 225 9797 during UK office hours, or order via this site and we will then reply to quote the required amount of postage for your country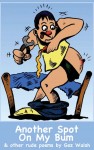 by Gez Walsh
Parents and teachers of the world beware! Gez Walsh – the 'Rude Dude' poet – is back!
Psst! It's me, Gez! I have been in hiding for many years in a rainforest by the sea, in a penthouse bungalow in Batley.

More Details
Those intrepid explores from Scratching Shed found me bronzing my lean godlike body in front of a nuclear power plant. All that radiation and I'm still not a superhero. They wanted me to return and annoy the teachers and parents of the world with my in-depth poems about the things that matter most: spots, farts and burps. At first I refused the riches and wealth they offered, but I finally broke when they offered me a cup of tea and a bacon sandwich. There's only so much a man can take. So here it is, the poetry book I said I would never write. It's full of poems – many of which you may have read in the hugely successful Potty Poet series, plus lots of new ones that only the people who live here in my little cell with its lovely padding have read (just because you can't see them doesn't mean they're not there). If you really want to know what it's like to have a spot on your bum or get your willy caught in your zip then read this book. It doesn't contain any answers to life's embarrassing problems but it does let us laugh at the misfortune of others.