Poetry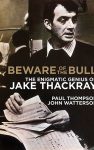 by Paul Thompson and John Watterson
Published 11 August 2022 – Advance orders taken now*
Beware of the Bull – The Enigmatic Genius of Jake Thackray is the first, much-anticipated biography of the late, great Yorkshire singer-songwriter.
Admired by Neil Gaiman, Jarvis Cocker, Jon Richardson and Arctic Monkeys, among others, Jake is increasingly recognised as one of the greatest and most original songwriters of the twentieth century; a unique talent and master storyteller, whose songs are full of wit, poetry, irreverence and humanity.
The book reveals a life as extraordinary as his writing: the hard childhood in the terraces of Leeds, remarkable Catholic education and formative years in France and war-torn Algeria; the first career as an inspirational, unorthodox, highly creative teacher; the meteoric development as a writer and performer, and discovery by the BBC; the Abbey Road recordings and impact on The Beatles; the fame and fortune brought by a remarkable television career… and Jake's rejection of it all.  It is the story of a charismatic, complex, self-effacing man who remained an enigma even to his friends.
The book has been written with the full support of Jake's family. With exclusive access to his personal papers, it includes a wealth of previously unpublished letters, poetry and lyrics, and is illustrated with many rare and never-before-seen photographs. Through it all, Jake's voice is heard afresh, and his life and work better understood.
Hardback – 480 pages
*Postage and packing included with UK orders only. Overseas customers may call us direct on 00 44 113 225 9797 during UK office hours, or order via this site and we will then reply to quote the required amount of postage for your country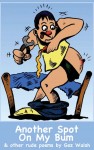 by Gez Walsh
Parents and teachers of the world beware! Gez Walsh – the 'Rude Dude' poet – is back!
Psst! It's me, Gez! I have been in hiding for many years in a rainforest by the sea, in a penthouse bungalow in Batley.

More Details
Those intrepid explores from Scratching Shed found me bronzing my lean godlike body in front of a nuclear power plant. All that radiation and I'm still not a superhero. They wanted me to return and annoy the teachers and parents of the world with my in-depth poems about the things that matter most: spots, farts and burps. At first I refused the riches and wealth they offered, but I finally broke when they offered me a cup of tea and a bacon sandwich. There's only so much a man can take. So here it is, the poetry book I said I would never write. It's full of poems – many of which you may have read in the hugely successful Potty Poet series, plus lots of new ones that only the people who live here in my little cell with its lovely padding have read (just because you can't see them doesn't mean they're not there). If you really want to know what it's like to have a spot on your bum or get your willy caught in your zip then read this book. It doesn't contain any answers to life's embarrassing problems but it does let us laugh at the misfortune of others.