Fiction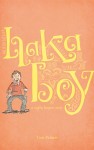 By Tom Palmer
It's the build up to Rugby League World Cup – and Harry has been given a project at school. He loves rugby and he loves projects. The only problem is Harry has to talk about it in front of 220 other children. His heart starts to beat hard. His hands begin to sweat. And just as Harry is worried that it is not going to go well, in walks somebody famous…
Haka Boy – A Rugby League Story is published in association with the Try Reading campaign, supported by Arts Council England.

More Details
Tom Palmer is author of two other rugby league books: What's a Bear to Wear? – also by Scratching Shed Publishing – and Scrum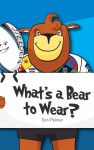 By Tom Palmer
There was once a bear. A big brown bear. And his name was Grubber. But Grubber was not happy. RLWC2013 was about to kick-off … it should have been an amazing day … but Grubber had a problem. A BIG PROBLEM!
What's A Bear to Wear? is a new picture book for young children featuring Rugby League World Cup 2013 official mascots Grubber and Steed. Rugby's newest double act were created by Mark O'Hanlon based on the designs of three young designers – Emily Sixsmith, Sam Bithell and Luke James. The book's original illustrations are by Alex Thomson.
So dive right into What's A Bear to Wear? to discover what the problem is and find out how Steed helps Grubber to to solve it.

More Details
This book is produced in association with Try Reading, a new project for public libraries. It celebrates and promotes the sporting event of the year – Rugby League World Cup 2013, while encouraging more people to read and to have a go at writing and drama. The project is being funded with an award from the National Lottery supported £6 million Grants for the arts libraries fund by Arts Council England.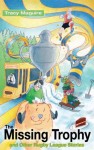 And Other Rugby League Stories
By Tracy Maguire
96 pages. Illustrations by Ben Robinson
Are you ready for six original adventures featuring young players, loyal fans and club mascots – who face a desperate race against time to save the Super League Grand Final?
Or how about the dilemma of a coach who is faced with a team who have never played a game of rugby in their lives – can he turn them into superstars? Or the fan who experiences rugby league the way it used to be played in the olden days? Or the group of pals whose love of the entertainment almost lands them in trouble?
From magic boots to a special Christmas, there's something here for everyone.
Dewsbury-born Tracy Maguire is a passionate rugby league fan and writer whose short stories for younger readers have graced Super League club programmes and websites. Here, for the first time, is a unique collection of brand new stories aimed at rugby-loving children.