A Lawyer for All Seasons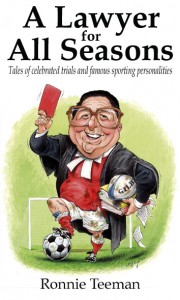 By Ronnie Teeman
Ronnie Teeman, the longest-serving solicitor in Leeds, has represented or been involved with some of the highest profile sportsmen in the United Kingdom.
A Lawyer for all Seasons is his long-anticipated memoir. It tells the fascinating story of a man who achieved national and international renown, especially in the world of sport, by representing a string of household names.
A Lawyer for all Seasons offers an inside view of astonishing and dramatic events, not least John Giles' successful suing for his portrayal in the book The Damned Utd. An entertaining and informative read? Guilty!
Teeman also has a high profile in Europe, where his deep knowledge of EEC law enabled him to negotiate deals with Italian football clubs for the likes of Liam Brady and Joe Jordan. In the UK he was involved in famous court cases like the Billy Bremner libel suit against the Sunday People which resulted in record libel damages; a plot to kill President Nkrumah of Ghana; and the Leeds police trial surrounding the alleged killing of David Oluwale which, 30 years after the event, continues to haunt those involved. Teeman is also a former President of the Rugby Football League with a wealth of rugby league-related anecdotes to share. Do not miss this riveting read.
People who bought this item also bought