Revelations of a TV Director – Royston Mayoh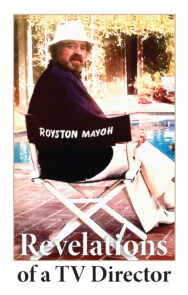 by Royston Mayoh
Royston Mayoh was – and by reputation remains – one of the biggest names in British television production. In a career spanning seven decades, this writer and director turned actor and performer went from sweeping the studio floor at ABC TV studios in Didsbury, Manchester, to being recognised as one of the most prominent producers of his generation, responsible for such household names as Opportunity Knocks and This Is Your Life, earning the friendship and respect of their hosts, Hughie Green and Eamonn Andrews, in the process.
Later, his expertise was in demand in such countries as Belgium, Japan, India, Australia and the USA. He was a force behind Tommy Cooper shows, The Kenny Everett Video Cassette series and many major events.
Having found late-life fame in front of the cameras as a star of the ITV hidden camera show Off Their Rockers, nowadays he is most likely to pop up on screen in numerous commercials and cameo roles in such audience-pullers as Emmerdale and Death Comes To Pemberley. Here for the first time are his memoirs, a treat for any television aficionado. Lights! Camera! Action...
With a Foreword by Freddie 'Parrot Face' Davies