The Great Leeds Pub Crawl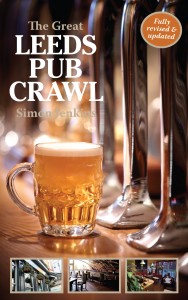 By Simon Jenkins
Join the Yorkshire Evening Post's award-winning beer writer Simon Jenkins on a criss-cross pub crawl through Leeds, calling in at dozens of popular watering holes.
Along with descriptions of the beers, pubs and adventures the author encounters along the way, The Great Leeds Pub Crawl also contains fascinating asides about local history, the story of brewing in the city, and it suggests plenty of alternative routes to keep even the thirstiest pub-crawler satisfied.
Comprehensively revised and updated, with even more magnificent colour photos, this is a book that no visitor to – or resident of – Yorkshire's biggest city can afford to be without. An ale trail with a difference, it looks at no less than 63 pubs in detail and many more in passing.
This is an entertaining, informative and at times surprising tour of one of Britain's most vibrant metropolises. Whether you are after a quiet pint, a lively night out, a chat with friendly locals, the odd cocktail or a quality bite to eat, The Great Leeds Pub Crawl is the guide for you.
People who bought this item also bought