A Day in a Dale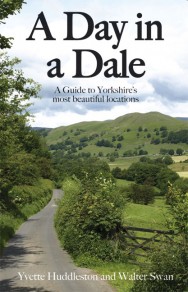 By Yvette Huddleston and Walter Swan
AS SEEN IN THE YORKSHIRE POST

Based on a collection of features that first appeared in the Yorkshire Post and featuring several of the characters who appear in the ITV1 prime time television series, The Dales, A Day in a Dale captures the experience of a series of memorable days out which can be shared by all either through reading, as an armchair traveller, or re-creating the journeys in person.
In meeting local people and seeking out Yorkshire's most attractive places, the writers present an engagingly personal and inspiring portrait of what Yorkshire can offer to visitors once they know precisely where to look. From secret waterfalls, to remote farmhouses and fords, to picture-postcard villages, to ancient castles, to moorland peaks and tarns, to countryside churches and chapels or ruined abbeys, to picturesque pubs, Yvette and Walter discover all that's best in rural Yorkshire and its delightful dales. Their day-long journeys include trips to Coverdale, Bishopdale, Raydale, Deepdale, Kingsdale, Birkdale, Cotterdale, Arkengarthdale and Grisedale – and many more besides. Also provided are details of where to eat and drink, where to stay overnight, or where to go walking or cycling if you want to abandon the car for a while. Beautifully illustrated, A Day in a Dale is the perfect bedside companion to have you dale-dreaming, or for taking out in the car as you visit for yourself the enchanting locations described. Paperback, full colour throughout, 256 pages.