Castleford Tigers RLFC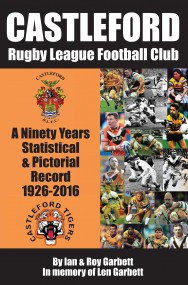 A Ninety Years Statistical and Pictorial Record
By Ian and Roy Garbett
In memory of Len Garbett
This exhaustive statistical compendium of one of British rugby league's most popular clubs is a must for every Castleford Tigers supporter and anyone with an interest in the history of rugby.
Providing a record of teams, scorers and results in every single match played since the birth of the club in 1925-26 and over the subsequent ninety years, it is an unmissable treat for any sporting bookshelf.
There are player statistics too for every season, including total career records and over five hundred photographs.
People who bought this item also bought