Driving The Real Great North Road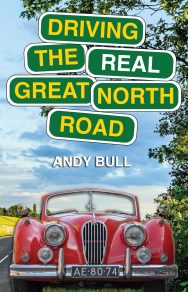 by Andy Bull
Just saying the name conjures up the golden age of motoring: a time when the open road spelled freedom and adventure, and when driving was fun.
Once, The Great North Road was spoken of as the UK's own version of America's Route 66: the Mother Road, threading its way across this green and pleasant land, linking the capitals of London and Edinburgh, taking in the great cities of York and Newcastle, numerous market towns and villages whose old coaching inns now catered for a new, romantic breed: the motorist. But all of that has long gone. Hasn't it?
Isn't the Great North Road now dead: buried by the A1, with its motorway-grade stretches and ubiquitous town by-passes?
Not a bit of it. Because the A1 is not the Great North Road. Realignment, renumbering, re-routing and extensive upgrading have meant that it bears little relation to the original highway. No more than a quarter of the modern A1 follows the route of the true Great North Road.
So, has that evocatively-named highway been wiped off the map? Actually, no.
These days it is hidden, renumbered as, among others, the B197, the A602, and the B656, but often still known locally as The Great North Road. All it has lost is the traffic that grew and grew until it clogged this great national artery.
That old, original route can still be driven the 400 miles from capital to capital, on a journey that does indeed have much in common with cruising America's Route 66.
Driving the Real Great North Road is travel writer Andy Bull's account of doing just that.
It's also about re-living a time when the road, in the words of JB Priestley, cut through towns like a knife through cheese; when it guided stars from Sting to Bryan Ferry, Mark Knopfler to Eric Burdon, to fame and fortune; when Dorothy L Sayers found a road "that winds away like a long, flat, steel-grey ribbon – a surface like a race-track, without traps, without hedges, without side-roads, and without traffic."
All you need to do is find the old road first. Let Andy show you how.
People who bought this item also bought