Learning Curve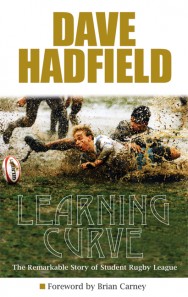 The Remarkable Story of Student Rugby League
By Dave Hadfield
Learning Curve - Dave Hadfield's seventh book about rugby league - is devoted to one of the game's great untold stories.
The spread of Student rugby league throughout England is highlighted by chapters on the development of league at Oxford and Cambridge - where sceptics said it would never penetrate.
Hadfield also looks at the growth of the 13-a-side code in Wales, Scotland and Ireland, as well as among students in Australia, France and New Zealand. The regular staging of Student World Cups, Ashes series and thriving domestic competitions are all covered, alongside the author's inimitable observations of the state of play today.
From dozens of interviews with those most closely involved, rugby league's best-loved writer captures the spirit of one of the sport's great successes - from the dedication it takes at the elite level to the humour it demands in the lower echelons. Whether you played at university or college or not, Learning Curve is an unmissable read for anyone interested in the future of rugby league.
* Learning Curve includes forewords from David Oxley - former chief executive of the Rugby Football League and chairman of the Student Rugby League - and Brian Carney, the Irish student who went on to play with great success in Super League, Australia's NRL and on the international stage with Great Britain.
People who bought this item also bought