Humour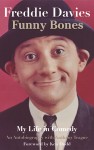 By Freddie Davies, with Anthony Teague
With a foreword by Ken Dodd
In 1964, a single appearance on TV talent show Opportunity Knocks made 'Parrotface' comedian Freddie Davies famous overnight. Spectacular success followed, stars such as Judy Garland, Cliff Richard, even Cary Grant, were fans…
But when it all began to slip in the 1980s, Freddie became a producer and then forged yet another career as a serious actor. He appeared to great acclaim in a Royal Shakespeare Company production of The Secret Garden and cult film Funny Bones – alongside Lee Evans and Jerry Lewis – based on tales of Freddie's music hall comic grandfather Jack Herbert. Now he has come full circle, delighting audiences again as Samuel Tweet in theatres up and down the land.
Fifty years on from his television debut, Freddie finally tells his own story, revealing for the first time the tragedy behind his early days in Salford and a family secret that rocked his world. He paints a vivid and hilarious picture of a gruelling apprenticeship in the Northern clubs – revealing how 'Parrotface' spluttered into life.
With a foreword by legendary comic Ken Dodd, this unique autobiography is a poignant and hilarious evocation of a vanished world, offering insights into the art of stand-up and a richly nostalgic treat for comedy connoisseurs.
LIMITED HARDBACK EDITION ALSO AVAILABLE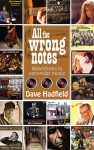 "…a very very funny and informative book . If you like good writing and folk music then you will love this." – Norma Waterson
By Dave Hadfield
With an introduction by Bernard Wrigley
For almost 50 years, Dave Hadfield has followed the genres of music that grabbed his youthful heart and mind. Now, in ALL THE WRONG NOTES, he has written not just a musical memoir, but a personal and social history of the last half-century.
Like a Zelig with a finger in his ear, he has been where folk music has happened and describes it, affectionately but warts-and-all, in a way it has never been described before.
Hadfield's sure ear for quirks and eccentricities produces unique takes on major figures like Bob Dylan, Ewan MacColl and Leonard Cohen. It celebrates the foot-soldiers and their role in keeping left-field music alive.
Humorous and provocative in equal measure, ALL THE WRONG NOTES is the key to a fascinating world of music.
DAVE HADFIELD has been a journalist and author for 40 years. This is his eighth book. He lives in Bolton with his wife, various children and an alphabetical CD collection.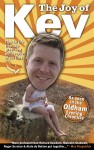 By Kevin Fitzpatrick
"Strangely funny – like a monkey on a bike." – Dave Spikey
Described by no-one as the great new philospher of our time, BBC local radio news journalist Kevin Fitzpatrick – aka 'Kev' – has become world famous (in Oldham) for sharing life's most essential skills. Now, for the first time ever, this star columnist of the Oldham Evening Chronicle has brought out a book of tips for a happy and successful existence (biscuits not included). Hardback, 128 pages. No lavatory should be without one.

More Details
****AS SEEN IN THE OLDHAM EVENING CHRONICLE **** Described by no-one as the great new philospher of our time, BBC local radio news journalist Kevin Fitzpatrick – aka 'Kev' – has become world famous (in Oldham) for sharing life's most essential skills. Not so much a lifestyle guru as a philanthropic self-help legend (again, probably only in Oldham), the man his mum calls Kev does not live in a cave and nor does he have a long silver beard. What he does have is a lifetime of invaluable experience in just about every subject under the sun – and it is hard-won experience that he is happy to pass on. Now, for the first time ever, this star columnist of the Oldham Evening Chronicle is bringing out a book. Stand aside, Ben Goldacre! Watch your back, Malcolm Gladwell! Stop dreaming, Sigmund Freud! You're sheer hype, Shere Hite! Here comes Kev, the new smart arse in town. Open your mind to the Joy of Kev and your biscuit dipping skills, buffet grazing abilities and dancing prowess will never be the same…