Salford Red Devils 150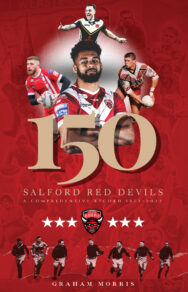 A Comprehensive Record 1873-2022
By Graham Morris
Salford Red Devils are one of Rugby League's most celebrated clubs, claiming a history going back to 1873. During the 150 years since, it has claimed numerous honours including six championship successes and eight Challenge Cup final appearances, four of them at Wembley. In 1934, the team achieved legendary status when touring France, their adventurous attacking play earning the accolade Les Diables Rouges – the Red Devils, a sobriquet officially appended in 2014.
Some of rugby's most most revered names have worn the famed red jersey including Harry Eagles, who played in every match of the inaugural British rugby tour to Australasia in 1888; Welsh greats Gus Risman and David Watkins, both of whom are included in Rugby League's Hall of Fame; and Jimmy Lomas and Chris Hesketh who – along with Risman – share the honour of captaining a Great Britain touring side. The club continues to produce exciting, entertaining rugby, evidenced by recent prestigious Man of Steel awards to half-backs Jackson Hastings and Brodie Croft.
Rugby League historian Graham Morris pays due homage to all of Salford's heroes, past and present, via a comprehensive and wide-reaching set of facts and figures covering every match and every player known to have represented the club since its formation. Backed by over 80 superb photographs and images, several in colour, this is the perfect reference book for Salford Red Devils supporters and Rugby League fans in general.
People who bought this item also bought