Seasons of Change – Busking Britain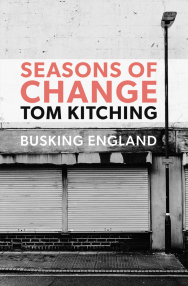 By Tom Kitching
Tom Kitching is one of England's leading traditional fiddle players.
He has worked as a solo performer, band member, dance caller, violin teacher, and street busker. That last element – the busking – was an afterthought, something to be phased out as he built a career in music.
But the busking bug wouldn't go away. Beyond the music and the collecting hat, perhaps fiddling through the streets of England could be a key to finding out who the English really are, how they view themselves and how they deal with change. Is there anything that ties together people across England's many cultural divides, from neat Cotswold villages hugging village greens to former mining villages huddled beside abandoned pits, from multicultural city to Anglo-Saxon market town?
Armed with a violin, a Northern sensibility and a love of life in all its troubling richness, Tom took an 18-month journey through England to find out.
This isn't really a book about busking, though. It's about people, place, and that elusive beast – Englishness. On Tom's street-level odyssey, the lines between friend and stranger blur, informality reigns, and chance encounters make a mockery of careful planning.
As the seasons change and the tally of busking towns grows, the complex mosaic called England confronts its fly-on-the-wall observer with the challenge – define me if you dare.