Scratching Shed International
The eagerly-awaited sequel to The Woman Without A Number
Iby Knill is remarkable. An Auschwitz holocaust survivor from Bratislava, she married a British army officer and set out to make a new life in England, arriving in Cornwall in 1947 to set up home.
After struggling to integrate as an immigrant in post-war Britain, she went on to raise a family and carved careers in civil defence, education, textile design and as a linguist, before gaining an MA, aged 80. The loss of her beloved Bert prompted thoughts of writing, but there was a stumbling block: 60 years of suppressed memories.
Now in her 90s, Iby has since overcome several breakdowns but remains determined to share her experiences with future generations. This eagerly-awaited sequel picks up where her best-seller, The Woman Without a Number, left off. It tells the stories of her brother, father and mother – whose indominability she has inherited – and evokes changing times through a life that has embraced challenge and opportunity.
Poignant, moving and searingly honest, The Woman With Nine Lives is confirmation that the past cannot be avoided but, when the very best of human nature is on display, a brighter future can always lie ahead.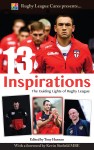 Edited by Tony Hannan. Foreword by Kevin Sinfield MBE.
13 Inspirations is a lively collection of essays by many of the leading writers and personalities in rugby league. With proceeds going to Rugby League Cares – a charity devoted to ensuring the welfare of the game's wider community – it tells 13 fascinating stories about 13 of rugby league's most inspirational personalities.
From the early days of the Northern Union, icons like Albert Baskerville and Lance Todd spring to life. From more recent history, heroes like Mike Gregory, Steve Prescott MBE and Darren Lockyer feature. And from modern-day Super League come Adrian Morley, Jamie Peacock MBE and others.
Edited by Tony Hannan with a foreword by Kevin Sinfield MBE, and including contributions from Jamie-Jones Buchanan, Jon Wilkin, Dave Hadfield and Brian Noble among a host of authorities on the sport, 13 Inspirations celebrates the game's guiding lights in a way that no one who cares for rugby league will want to miss.
Rugby League Cares – Supporting rugby league's broad community. Past, present and future.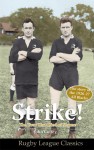 By John Coffey
Strike! The Tour that Died of Shame is the sixth in Scratching Shed Publishing's critically-acclaimed Rugby League Classics series.
The 1926-27 New Zealand 'All Blacks' rugby league tour of Great Britain was the most tempestuous sporting venture of all time and led to seven of the players being disqualified for life on their return home.
Set against the backdrop of a financially crippling miners' strike, the 'guilty' tourists rebelled against their controversial coach, an Australian who himself was suspended for part of the tour by English authorities.
Nineteen loyal players were left to carry on bravely against overwhelming odds in the midst of a harsh English winter, some of them backing up for as many as fifteen consecutive matches.
Strike! The Tour that Died of Shame is that story. It is a tale of hardship and heroism, courage and cover-up, examined in depth for the very first time. It is an investigation of what went wrong with a tour that promised so much. It seeks to establish who – if anyone – was really to blame. And it is a fascinating slice of sporting social history whose reverberations continue to be felt to this day.

More Details
John Coffey is New Zealand's most experienced rugby league writer, having covered more than 100 Test matches during 44 years with The Press newspaper in Christchurch and as a touring New Zealand Press Association correspondent. His previous books have included Canterbury XIII (1987), Modern Rugby League Greats (1991), Being Frank, the Frank Endacott Story (2002), and major publications to mark the centenaries of the Kiwis (2007), New Zealand Maori Rugby League (2008) and Auckland Rugby League (2009).