Travel and tourism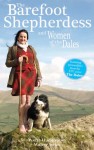 CURRENTLY OUT OF PRINT
By Yvette Huddleston and Walter Swan
Reprint under consideration
The Barefoot Shepherdess and Women of the Dales celebrates the variety and versatility of a dozen or more determined women who have made a distinctive life for themselves "far from the madding crowd". The Yorkshire Dales attracts tourists aplenty to appreciate the beauties of the local landscape but most visitors return to their towns and cities, renewed by the peace and quiet of the countryside, though unable to leave their modern, urban lifestyle for too long.

More Details
Women like Alison O'Neill, who owns her own flock of sheep and designs her own brand of tweed clothing, demonstrate that you can live a life of independence and fulfilment even in Britain's remotest regions. There are inevitable hardships to be endured but innumerable compensations when the Dales are your doorstep. Each chapter features inspirational women who have made the choice to live and work collaboratively with the people and places of the Yorkshire landscape, What they have in common – farmers, artists, vets, publicans, entrepreneurs, artisans, academics, vets, curators and vicars – is a passion for life where Yorkshire countryside and community coincide.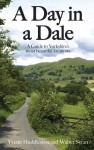 By Yvette Huddleston and Walter Swan
AS SEEN IN THE YORKSHIRE POST

Based on a collection of features that first appeared in the Yorkshire Post and featuring several of the characters who appear in the ITV1 prime time television series, The Dales, A Day in a Dale captures the experience of a series of memorable days out which can be shared by all either through reading, as an armchair traveller, or re-creating the journeys in person.

More Details
In meeting local people and seeking out Yorkshire's most attractive places, the writers present an engagingly personal and inspiring portrait of what Yorkshire can offer to visitors once they know precisely where to look. From secret waterfalls, to remote farmhouses and fords, to picture-postcard villages, to ancient castles, to moorland peaks and tarns, to countryside churches and chapels or ruined abbeys, to picturesque pubs, Yvette and Walter discover all that's best in rural Yorkshire and its delightful dales. Their day-long journeys include trips to Coverdale, Bishopdale, Raydale, Deepdale, Kingsdale, Birkdale, Cotterdale, Arkengarthdale and Grisedale – and many more besides. Also provided are details of where to eat and drink, where to stay overnight, or where to go walking or cycling if you want to abandon the car for a while. Beautifully illustrated, A Day in a Dale is the perfect bedside companion to have you dale-dreaming, or for taking out in the car as you visit for yourself the enchanting locations described. Paperback, full colour throughout, 256 pages.
By Dave Hadfield
With an introduction by Adrian Morley
Despite England's disappointment, the 2008 Rugby League World Cup in Australia wasn't all bad. Far from it. For one thing it allowed best-selling sportswriter & broadcaster Dave Hadfield to gather material for Down & Under, his long-awaited follow-up to Up & Over – in which a journey through England's rugby league land was chronicled. This time, the glamorous world of Australian rugby league comes under the microscope as Hadfield unleashes his wit, wisdom and wanderlust on the land of Ned Kelly and Wally Lewis. A great read? You betcha! Paperback, 216 pages.

More Details
Down and Under reviewed in the Independent – Sunday 14 February 2010 By Simon Redfern When it comes to World Cups, rugby league has a long way to go before it can compete with the football equivalent in capturing the imagination of the British public. But the 13-a-side version has its charms, especially if you approach it with an open mind and a well-developed thirst, as did Dave Hadfield of this parish when attending the 2008 tournament in Australia. While events on the pitch get due mention, the real charm lies in Hadfield's Bill Brysonesque take on the people and places he encounters along the way. His mantra is "Don't let the rugby spoil the trip," which is just as well given England's dismal performances, and he clearly loves Oz. Whether discoursing on the fine distinctions between hoons, larrikins and bogans in the pantheon of Australian layabouts or musing on the country's unique beer measures, he is an amusing companion, the kind of bloke you'd actively seek out in a pub rather than avoid. Cheers for the book, Dave; the next schooner of grog is on me.