True Life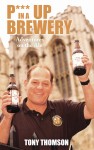 Adventures on the Ale – by Tony Thomson
When Tony Thomson decided it was time for York to have its own beer again, he had more than a brewery in mind…
As well as creating a superior beer, the pioneering independent brewer wanted to offer the Minster city's visitors an alternative attraction – a showpiece brewery with a visitor centre, bar and club.
P**s Up in a Brewery records every step along the way to building a successful business – from the birth of an idea to the search for funding; from hauling a second-hand kit across the Pennines to the improbable task of finding premises within the city walls; from tackling the stern resistance of York landlords to the moment when the new kid on the block captures the industry's most coveted awards.
Alongside the drama is the humour associated with building a business on the simple premise that you like its product. The book's cast of colourful characters include Tony's partner in crime, one-time burger-flipper Smithy, and the softly-spoken barman who lets his wooden club do the talking for him. With secretive brewers, a couple of ghosts and a lass on a hen party determined to down a yard of ale also in the mix, you have something between a soap opera, a business plan and a sitcom.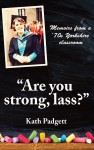 Memoirs from a '70s Yorkshire classroom
by Kath Padgett
Kath Padgett arrived as a naïve, newly-qualified graduate teacher of modern languages just as the pop band Dawn were topping the charts with 'Knock Three Times,' Spangles were the sweets of choice and orange mini skirts with shoes from Freeman, Hardy & Willis all the rage.
'In those first two years, I laughed and cried, encountered wonderful and inspirational people, many of whom turned out to be lifelong friends and, in addition to learning how to teach, was taught how to learn. I learned about strength of character, tough love and the things that really mattered in life.'
This is the story of those early teaching years. The characters and black humour, the rawness, deprivations and an instilling of hope as much as education.
As much a social history of the time – including original letters received from parents – she deals with playground tragedy, first foreign trips and staff room politics, emerging on a career path that saw her ultimately spend 46 years as a teacher.
These recollections of inner-city secondary school life in early 1970s Yorkshire are
as poignant and entertaining as they are nostalgic.
"My story is in no way all sweetness and light, cute and slushy. It's earthy, gritty and heartbreaking, yet at the same time rewarding, challenging, life-changing and vital…"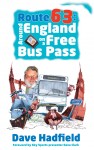 By Dave Hadfield
With a foreword by Sky Sports presenter Dave Clark
Early on the morning of his 63rd birthday, DAVE HADFIELD walked out of his front door and caught a bus…
It was the first stage in an epic journey that would take him around the furthest flung corners of his native England, showing it to him from a completely new angle.
Already acclaimed for his books on sport and music, Hadfield has broadened his canvas for what might well be his finest work yet.
Heading south along the Welsh Borders, west to Land's End, along the South Coast to Dover, through London and up the eastern side of the country to Newcastle, through the Pennines and the Lakes and back home to Lancashire; he chronicles what he sees and hears on an itinerary that involves over 100 local buses.
Better still, he does it all for nothing – on a bus pass for which he was qualified by Parkinson's Disease. Undeterred by that disability, he explores the country he loves with a keen eye and ear for the absurd.
By turns thoughtful and hilarious, Route 63 will appeal to anyone who has enjoyed Hadfield's writing for the Independent newspaper, as well as his highly popular previous outings. Those new to his unique style, can prepare to discover why he has been called Bolton's very own answer to Bill Bryson.