casebook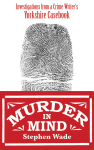 Investigations from a Yorkshire Crime Writer's Casebook
By Stephen Wade
There has always been a fascination with crime and punishment; from highwaymen to the foul deeds of Bradford lorry driver Peter Sutcliffe. The allure of the unsolved case has long provided material for true crime and fiction writers.
In Stephen Wade's personal casebook, Murder in Mind, he gazes back over favourite investigations in his home county Yorkshire – rich with villainous acts, painstaking detective work and injustice.
Read about Leeds's most notorious female killer Louie Calvert and why Wade believes her conviction and hanging a travesty. Learn of famous hangmen, Chartist rebels and cases open to fresh investigation, such as those of Bill o' Jacks, Mr Blum and Emily Pye.
Murder in Mind brings together Stephen's journeys into the criminal underworld, including his work as a writer in prisons and his research in the murder archives.
The basis for this book was created in the 'Yorkshire Ripper' years, when the impact of that series of murders sparked the crime writer in him. His tutor, Stanley Ellis, worked on the notoriously misleading 'Ripper Tapes.'
Since then, Stephen has written over 70 non-fiction titles – many of them on the history of crime and the law – but this is something different. It is a mixture of memoir, reflection and the realisation that murder often happens down the street.