class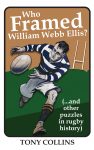 (…and other puzzles in rugby history)
By Tony Collins
Did a schoolboy named William Webb Ellis really invent rugby two hundred years ago in 1823?
It's a myth – but has always been a major part of the game, emerging in the culture wars that led to rugby's great split of 1895.
The debate between league and union is endless. Which rugby code can claim to be the authentic version? Who has rightful claim to the original British Lions? Why did rugby league become the dominant code in Australia? How come it isn't the premier code in Wales?
There are endless puzzles on the pitch too. Why does union follow football and have a throw-in? What's the role of the drop-goal in the modern age? And what are the reasons for the decline of scrums?
In Who Framed William Webb Ellis?, award-winning professor of history Tony Collins uncovers and explains these and many more such enigmas surrounding rugby.
He reveals, for example, that rugby was once far more popular than football, that Manchester was a hotbed of the oval ball, and that Leeds United owes its existence to a rugby league club.
So what did happen that meant soccer and not rugby ultimately became the world game?
Based on episodes of his Rugby Reloaded podcast, Collins also explores the culture of rugby, and looks at Tom Brown's School Days, the 19th-century equivalent of Harry Potter, 1960s kitchen sink movie classic This Sporting Life, the mysterious 'Battle of the Roses' painting, and even a Sherlock Holmes detective story.
If you've ever had a question about rugby history, then this is the book you need to read.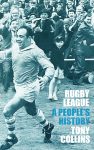 CURRENTLY OUT OF STOCK
By Tony Collins
In 1895, the game of rugby league was born. Ever since, it has brought us thrilling matches, magical players and countless memorable moments. Published to coincide with the game's 125th anniversary, Rugby League: A People's History tells the story of the sport in all its glory, from global superstars to local supporters and everyone in between … professionals and amateurs, men and women, officials and volunteers.
It goes back to the start of rugby and explains why rugby league was born, how it grew around the world, and what enabled – and still enables – it to triumph over adversity.
This is more than just a history of rugby league. It is a social history of the life and times of the north of England.
Tony Collins is emeritus professor of history at De Montfort University, whose books include The Oval World: A Global History of Rugby and How Football Began. He has won the Lord Aberdare Prize for sports history book of the year four times, and appeared on many BBC television and radio programmes.