cyclists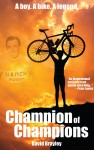 A boy. A bike. A legend.
By David Brayley
What if you were a professional road cyclist and – due to a run of bad injuries and loss of form – were told your career will be finished if you didn't succeed in one of the world's toughest races? Daniel's dream of being a leading professional cyclist is under threat but, far from being worried, he believes he has the answer. All he has to do is remember it.
For that, he must go back to the very beginning of his journey as a 14-year-old rider in the leafy lanes of Wales's Gower Peninsula, and then make a shock detour to rural Italy, where he first hears what will become his mantra – "Be the best that you can be."
The eccentric stranger who tells him so also introduces Daniel to the legendary Italian racer, Fausto Coppi, and inspires the teenage boy with stories of Coppi's excellence, bravery, success and ultimate heartbreak. But the eerie man with detailed knowledge hides a dark secret. Once before he tried to inspire a teenage cyclist and the horror of that episode is slowly revealed to Daniel.
In a story that threatens to tear a family apart, can Daniel navigate his past and call on the reasons that led to him becoming a professional cyclist in the first place? If so, he may just be able to deliver a performance in the brutal Milan-San Remo race and save not only his cycling career but everything his life has meant so far.
Will the memories be too painful? Or will they lead on to ultimate glory?