Dave Hadfield
In the Footsteps of Laurie Lee
By Dave Hadfield
It was the Booker Prize-winning author of Schindler's Ark, Thomas Keneally, who described Dave Hadfield as 'The Poet of Rugby League'. True enough, though the man who has also been called Bolton's answer to Bill Bryson has equally revelled in other subjects, like music and travel.
Lost in Spain is the result of the dying wish of his oldest friend's wife, Barb, to have her ashes scattered along the route traced by Laurie Lee when he walked from Gloucestershire to the Mediterranean in the 1930s.
That original journey provided the material for As I Walked Out One Midsummer Morning, the book upon which, as well as Cider with Rosie, Lee's glittering reputation rests.
Lost in Spain is a story of friendship and late-flowering love that is by turns informative, poignant, elegiac and laugh-out-loud funny.
These days freed from the constraints of daily journalism, Hadfield has no plans to stop writing. Of his ten books so far, five have been written since he was diagnosed with Parkinson's Disease in 2008.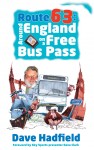 By Dave Hadfield
With a foreword by Sky Sports presenter Dave Clark
Early on the morning of his 63rd birthday, DAVE HADFIELD walked out of his front door and caught a bus…
It was the first stage in an epic journey that would take him around the furthest flung corners of his native England, showing it to him from a completely new angle.
Already acclaimed for his books on sport and music, Hadfield has broadened his canvas for what might well be his finest work yet.
Heading south along the Welsh Borders, west to Land's End, along the South Coast to Dover, through London and up the eastern side of the country to Newcastle, through the Pennines and the Lakes and back home to Lancashire; he chronicles what he sees and hears on an itinerary that involves over 100 local buses.
Better still, he does it all for nothing – on a bus pass for which he was qualified by Parkinson's Disease. Undeterred by that disability, he explores the country he loves with a keen eye and ear for the absurd.
By turns thoughtful and hilarious, Route 63 will appeal to anyone who has enjoyed Hadfield's writing for the Independent newspaper, as well as his highly popular previous outings. Those new to his unique style, can prepare to discover why he has been called Bolton's very own answer to Bill Bryson.