gallantry; war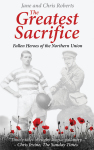 FALLEN HEROES OF THE NORTHERN UNION
By Jane and Chris Roberts
They were among the sporting elite of 1914 – the stars of the Northern Union – idolised by thousands of enthusiastic men, women and children up and down the land.
Yet despite their heroic status in what was soon to become known as rugby league, these warriors of the playing field were willing to sacrifice their careers – and then lives – on the World War One killing fields, for King and Country.
Other sports have honoured their Great War fallen over these past 100 years, producing Rolls of Honour to ensure that their ultimate bravery is never forgotten; not so rugby league – until now.
The Greatest Sacrifice – Fallen Heroes of the Northern Union – rights that wrong. It tells the story of talented sportsmen who, when war was declared on 4 August 1914, duly departed for France, Belgium and beyond, never again to see the rugby league towns and grounds they once so famously graced.
Among those who fell were three members of Great Britain's 1914 summer tour to Australia and New Zealand. A number of other former internationals died too, as did many more who had earned top domestic honours with their clubs. Some of the youngest players were just embarking on professional careers and therefore never able to fulfil their potential.
Each player featured has a different tale to tell – from childhood to rugby stardom to enlistment into the British Army and, finally, the greatest sacrifice of all.