Haworth parsonage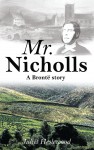 A Brontë Story
By Juliet Heslewood
An old man is asked to remember the Brontës. Wasn't he taught by the famous sisters in school? John looks back and recalls how, as a young boy, he liked to spy on the family from his secret post, high in Haworth's church tower, opposite their home.
His own village is one mile away, across the moors. He lives with his shoemaker father and his sisters who work in the local woolen mills. Things change here when Mr. Nicholls, the Haworth curate, builds a small church for its Anglican residents.
John gets to know him. When he does well at school, John is given extra lessons by Mr. Nicholls. The two become close – not only through their work, but because John learns that his master is deeply in love with Charlotte Brontë. John is surprised to learn that she, and her sisters, have become famous writers. For him they are familiar individuals.
He encourages Mr. Nicholls to pursue Charlotte, especially when she loses her siblings and now lives alone with her father. But Mr. Brontë is against Mr. Nicholls, despite his good work in the parish. When it seems he must leave – perhaps to go to the other side of the world – John is alarmed. Yet he has learned much about affection. Over the years he too has become fond of a girl in his village.
The story is based on known events in the lives of the Brontës and the role John played in witnessing Mr. Nicholls's anguish, as well as his final success.