league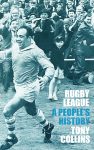 CURRENTLY OUT OF STOCK
By Tony Collins
In 1895, the game of rugby league was born. Ever since, it has brought us thrilling matches, magical players and countless memorable moments. Published to coincide with the game's 125th anniversary, Rugby League: A People's History tells the story of the sport in all its glory, from global superstars to local supporters and everyone in between … professionals and amateurs, men and women, officials and volunteers.
It goes back to the start of rugby and explains why rugby league was born, how it grew around the world, and what enabled – and still enables – it to triumph over adversity.
This is more than just a history of rugby league. It is a social history of the life and times of the north of England.
Tony Collins is emeritus professor of history at De Montfort University, whose books include The Oval World: A Global History of Rugby and How Football Began. He has won the Lord Aberdare Prize for sports history book of the year four times, and appeared on many BBC television and radio programmes.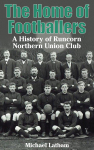 A History of Runcorn Northern Union Club
by Michael Latham
Runcorn was a hotbed of rugby in the late Victorian era, the town's club a proud founder member in 1895 of the Northern Union – the breakaway game that became known as Rugby League.
Yet that great rugby tradition was ended by the First World War, with devastating effects for many Runcornians, including members of the rugby club, who served and lost their lives.
Runcorn nurtured ten international rugby players in total, all but one born within a few hundred yards of the Irwell Lane ground.
Respected sports writer and historian Michael Latham recreates those far-off days when the oval ball dominated and the town's heroes included Harry Speakman, a member of the first rugby tourists to Australia, Sam Houghton, Jimmy Butterworth, Jimmy Jolley and Dick Padbury, among just a few in a gallery of colourful characters, the rugby league superstars of their day.
With a detailed biographical and records section to complement the deeply researched narrative, this is one of the most comprehensive histories ever written about the Northern Union and contains around three hundred photographs.
Harry Price was once a promising Runcorn player, snapped up by Wigan in 1906, where he became a highly regarded and popular player and captain. The report announcing his signing in the Wigan newspaper had a simple, approving testimonial: "Price was born in Runcorn, the home of footballers." Hence the book's title.