music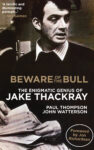 (NB: THIS IS PAPERBACK VERSION. HARDBACK CURRENTLY UNAVAILABLE)
The labour and the love seep from every page. For Old Molly Metcalfe, for Leopold Alcocks, for Sister Josephine, but mostly for yourself, if your hands aren't too encumbered, gather a book or two for Jake…" – Jon Richardson
"A timely paean to a velvet larynxed, storytelling wonderman…" – Cerys Matthews
by Paul Thompson and John Watterson
Beware of the Bull – The Enigmatic Genius of Jake Thackray is the critically-acclaimed first biography of the late, great singer-songwriter.
Admired by Neil Gaiman, Jarvis Cocker, Alex Turner and Thea Gilmore, among others, Jake was one of the greatest and most original artists of the twentieth century; a unique talent and master storyteller whose songs are full of wit, poetry, irreverence and humanity.
The book reveals a life as extraordinary as his writing: difficult upbringing in the terraces of Leeds; strict Catholic education; transformative experiences in France and Algeria; time as an inspirational, unorthodox and highly creative teacher; meteoric development as a writer and performer; subsequent discovery by the BBC; Abbey Road recordings and influence on The Beatles; fame, fortune and remarkable television career… and Jake's rejection of it all.
It is a story of a complex, charismatic and self-effacing man whom many loved, but few understood. Beware of the Bull was written with the full support of the Thackray family. Exclusive access to personal papers has allowed for the inclusion of a wealth of rare poems, photographs and 'lost' lyrics.
This paperback edition comes with a new foreword by the comedian Jon Richardson, an afterword by the authors, and further appendices with author Neil Gaiman and the distinguished conductor and composer Sir William Southgate.
*Among the Daily Telegraph's pick of the best music books of 2022*
Paperback – 512 pages
*Postage and packing included with UK orders only. Overseas customers may call us direct on 00 44 113 225 9797 during UK office hours, or order via this site and we will then reply to quote the required amount of postage for your country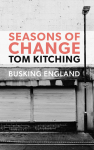 By Tom Kitching
Tom Kitching is one of England's leading traditional fiddle players.
He has worked as a solo performer, band member, dance caller, violin teacher, and street busker. That last element – the busking – was an afterthought, something to be phased out as he built a career in music.
But the busking bug wouldn't go away. Beyond the music and the collecting hat, perhaps fiddling through the streets of England could be a key to finding out who the English really are, how they view themselves and how they deal with change. Is there anything that ties together people across England's many cultural divides, from neat Cotswold villages hugging village greens to former mining villages huddled beside abandoned pits, from multicultural city to Anglo-Saxon market town?
Armed with a violin, a Northern sensibility and a love of life in all its troubling richness, Tom took an 18-month journey through England to find out.
This isn't really a book about busking, though. It's about people, place, and that elusive beast – Englishness. On Tom's street-level odyssey, the lines between friend and stranger blur, informality reigns, and chance encounters make a mockery of careful planning.
As the seasons change and the tally of busking towns grows, the complex mosaic called England confronts its fly-on-the-wall observer with the challenge – define me if you dare.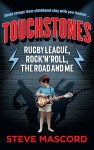 Rugby League, Rock'n'Roll, The Road and Me

by Steve Mascord

Steve Mascord – born Andrew John Langley – was obsessed with rugby league and rock'n'roll. Long after almost everyone he knew, he clung to these things like twin teddybears, turning at least one of them into a career and making a bit of money out of the other.
At the age of 47 he owned precisely nothing aside from hundreds of records and CDs and almost every edition of Rugby League Week ever printed. He was unmarried, had no car or property and was the proud owner of $50,000 of credit card debt. Then one day he discovered the truth about himself.
He always knew he was adopted but it turned out he was part of a bohemian family, his mother forced to give him up after suffering a mental breakdown. She searched for him until her dying day. Steve met uncles and cousins and aunties he never knew existed and for the first time in his life he felt whole. And he looked around that storage room full of CDs and football magazines and felt sad; a sense of loss. He appeared in newspapers and on radio and television and people thought he was successful but had he really created a life for himself? Or was he living in a childhood fantasy, compensating for what had been missing, ready to fall down on top of him as traditional media imploded?
Steve thought 'enough of being Steve Mascord, who is not a real person. Time to finally be Andrew John Langley'. Having figuratively thrown all his toys out of the cot, he decided to conduct an audit. Which ones to pick up off the floor and keep in his new life, and which to leave laying there forever.