politics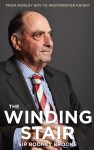 From Morley Boy to Westminster Knight
by Sir Rodney Brooke
"Few, if any, public servants can match Sir Rodney Brooke's 60-year record … six decades of unbroken service across local government, the NHS, education, utilities and beyond surely give him a unique perspective…" – The Guardian
Sir Rodney Brooke has had an eventful life at the sharp end – thanks to a career that led him from 15-year-old school-leaver in Yorkshire to the corridors of power at Westminster… and all points in between. In The Winding Stair, his sparkling collection of memoirs, he takes readers through its highs and lows – beginning as a reporter on his hometown Morley Observer newspaper and ending with a CBE, knighthood and honours from five more countries. In so doing, he reveals hitherto unknown details behind six decades' worth of controversial headline moments and colourful personalities.
As a former chief executive of West Yorkshire County Council, he shares fascinating background into the mysterious death of Helen Smith in Jeddah; the Bradford City fire, in which 56 people were killed; and the handling of the hunt for the Yorkshire Ripper.
As Emergency Controller in the event of nuclear war, he was told to shelter in a Pennine underground lair – and restore order as Geiger counters said to emerge. Read how Halifax invented the guillotine; why dogs could bark at night in Otley but not Ossett; how the law told householders in Huddersfield to whiten their doorsteps before 8.00am or be fined five shillings; and why the press camped on his Ilkley lawn after he resigned over the notorious 'Homes for Votes' episode – when Dame Shirley Porter was surcharged £42.5m.
Accounts of how he organised the final reading of the Riot Act and interviewed a talking dog with Mrs Thatcher's press spokesman, Sir Bernard Ingham, are found among tales of Princess Diana's underwear in Roundhay Park, Princess Margaret and the cakes at Leeds/Bradford airport, sex and the Poll Tax, the murky Dolphin Square scandals and how Trafalgar Square very nearly became Nelson Mandela Square. For anyone interested in current affairs and the reality behind politics, The Winding Stair – From Morley Boy to Westminster Knight is not to be missed.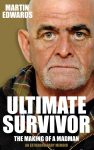 PAPERBACK
by Martin Edwards
For Martin Edwards – Royal Marine, Special Forces survivor, soldier of fortune, thwarter of terrorists and much much more besides – life has been one big world of trouble.
The product of cruel parents in Rhyl, this born rebel's escape was a long time coming. But once it was engineered, the road that opened up took him from North Wales to the high seas to Disney World Florida (thrown out, naturally), to undercover work in Northern Ireland and, ultimately, counter-insurgency in the likes of Abu Dhabi, Uganda and Otterton, a previously peaceful village in Devon!
Brutally beaten as a child – and attempting suicide at the age of twelve – he somehow retired as a multi-millionaire, but not before carving an equally remarkable trail through locations as diverse as deepest Dartmoor, Bogside, Kampala and the City of London, in the company of a colourful cast of characters.
Featuring a lively array of mind-boggling adventures, the majority laced with dark humour, Ultimate Survivor tells a story like no other. It is an X-rated tale of warship sieges, sexual abuse, hair-raising IRA ambushes, a death-defying run-in with notorious Sinn Fein politician Martin McGuinness, military coups, encounters with celebrity and a job as bodyguard to Prince Bandar of Saudi Arabia. You are unlikely to have read a memoir quite like this one.
All profits from the sale of this book will be donated to charities supporting military mental health and vulnerable children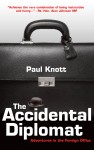 By Paul Knott
"Achieves the rare combination of being instructive and funny…" – Rt. Hon. Alan Johnson MP
Part political intrigue, part comedic travelogue, The Accidental Diplomat is an incident-packed memoir that bridges the chasm between John le Carré and Johnny English.
Its author, Paul Knott, is an ordinary Northern lad who began his working life in a hut on Hull's King George Dock before an improbable career switch to Her Majesty's Diplomatic Service. Tied up in a series of significant world events during two decades spent globetrotting on official duties, his story offers an illuminating insight into the most discreet of the UK's great offices of state, the Foreign and Commonwealth Office. It blends the political with the personal to paint a vivid picture of the exciting and often absurd life of a Crown emissary.
Knott's first posting to post-revolutionary Romania is a punishment for insubordination, but he finds the rampant eccentricity of a country striving to emerge from the Ceauşescu dictatorship inspiring and uproarious. A superficially more attractive but ultimately soulless sojourn in Dubai is enlivened when he is abducted at gunpoint by hospitality terrorists, before a happier time in the police-state of Uzbekistan, where he takes a hands-on approach to pursuing human rights and, with greater success, a gorgeous Kenyan lawyer.
His year in Kiev offers a close-up view of events underlying the ongoing crisis in Ukraine, several James Bond moments and an encounter with a wounded gangster. He is then unexpectedly beguiled by the offbeat charms of Belgium and the EU before his remarkable ride ends in Russia. The great land of contradictions proves both appealing and appalling, not least when a former Russian spy is murdered in London by radiation poisoning.
"An unexpectedly engrossing read" – James Brown, Sabotage Times

'The hilarious and engrossing tale of how one ordinary bloke from Hull stumbled onto the world political stage by accident…' Russ Litten, Author of Scream if You Want to Go Faster and Swear Down