rehabilitation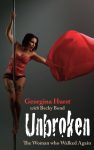 By Georgina Hurst, with Becky Bond
On four occasions the life of Georgina Hurst has been drastically changed by events outside her control – but she has dealt with the implications head-on.
Most significant was the road smash that had apparently destroyed all her hopes and dreams, while as a passenger in a car driven by the man she thought she loved – and even returned to afterwards. Brought back to life four times, George suffered injuries in the crash so horrific and shocking her friends and family were told by surgeons to expect the worst. Yet it turned out to be the making of her – she would never have discovered a passion and talent for pole dancing otherwise.
This is George Hurst's story of facing pain and the truth as physical rehabilitation forces her down a revelatory path of self-discovery; one which is still going on today, including surviving sepsis during the time of Covid. She can't change her past, but with a defiant two fingers to self-pity, George's future remains fearless – and her outlook on life inspirational.