sports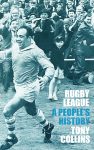 By Tony Collins
In 1895, the game of rugby league was born. Ever since, it has brought us thrilling matches, magical players and countless memorable moments. Published to coincide with the game's 125th anniversary, Rugby League: A People's History tells the story of the sport in all its glory, from global superstars to local supporters and everyone in between … professionals and amateurs, men and women, officials and volunteers.
It goes back to the start of rugby and explains why rugby league was born, how it grew around the world, and what enabled – and still enables – it to triumph over adversity.
This is more than just a history of rugby league. It is a social history of the life and times of the north of England.
Tony Collins is emeritus professor of history at De Montfort University, whose books include The Oval World: A Global History of Rugby and How Football Began. He has won the Lord Aberdare Prize for sports history book of the year four times, and appeared on many BBC television and radio programmes.