Troubles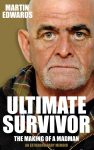 PAPERBACK
by Martin Edwards
For Martin Edwards – Royal Marine, Special Forces survivor, soldier of fortune, thwarter of terrorists and much much more besides – life has been one big world of trouble.
The product of cruel parents in Rhyl, this born rebel's escape was a long time coming. But once it was engineered, the road that opened up took him from North Wales to the high seas to Disney World Florida (thrown out, naturally), to undercover work in Northern Ireland and, ultimately, counter-insurgency in the likes of Abu Dhabi, Uganda and Otterton, a previously peaceful village in Devon!
Brutally beaten as a child – and attempting suicide at the age of twelve – he somehow retired as a multi-millionaire, but not before carving an equally remarkable trail through locations as diverse as deepest Dartmoor, Bogside, Kampala and the City of London, in the company of a colourful cast of characters.
Featuring a lively array of mind-boggling adventures, the majority laced with dark humour, Ultimate Survivor tells a story like no other. It is an X-rated tale of warship sieges, sexual abuse, hair-raising IRA ambushes, a death-defying run-in with notorious Sinn Fein politician Martin McGuinness, military coups, encounters with celebrity and a job as bodyguard to Prince Bandar of Saudi Arabia. You are unlikely to have read a memoir quite like this one.
All profits from the sale of this book will be donated to charities supporting military mental health and vulnerable children