WDC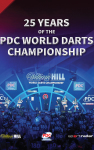 With an introduction by Barry Hearn
Darts fans will not want to miss this official commemoration of the PDC World Darts Championship – which enters its 26th year in December 2018.
Readers will discover a vast collection of statistics, memories and images from a quarter of a century of darting excellence, with the results and player details of every match and player over that time, along with a comprehensive reference source for lists and records, contained in its pages.
Since the first match between Dennis Priestley and Jocky Wilson in December 1993, over 1,300 matches involving more than 350 players have been played. Colourful quotes and photos add to the celebration in a book compiled using data from Sportradar, who have collected live dart-by-dart data from events around the globe as official data partner to the PDC.
Numbers are a large part of a tension-filled, fast-paced, mentally-draining sport. So whether you are a fan, player, media professional or just a darting geek, 25 Years of the PDC World Darts Championship is a must-have publication.
The author, Steve Morgan, has worked for Sportradar at PDC tournaments since 2015 with responsibility for ensuring data speed and accuracy to the PDC and betting industry.