The Greatest Sacrifice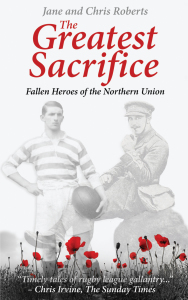 FALLEN HEROES OF THE NORTHERN UNION
Published 31 August 2018 - pre-order now
By Jane and Chris Roberts
They were among the 1914 sporting elite. As professional rugby league players competing in the Northern Union (the forerunner to the Rugby Football League), they were idolised by tens of thousands throughout the northern heartlands.
But even though they had earned hero status and were at the height of their rugby league powers, these brave sporting warriors were ready and willing to sacrifice their privileged professional careers and fight for King and Country in the First World War – and then make the ultimate sacrifice by losing their lives.
Yet while other sports have honoured their Great War fallen over the decades and produced Rolls of Honour to ensure their players' sacrifices have never been forgotten, it's never been done in rugby league – until now. It's finally time to pay homage to those known players who were senior Northern Union stars when war was declared on 4 August, 1914, but threw it all away to move from the sporting fields of the north of England to the killing fields of France, Belgium and beyond, and never returned to resume their rugby league careers.
Among those who fell were three members of the Great Britain 1914 summer tour to Australia and New Zealand, as well as a number of former internationals and many others who had earned top domestic honours with their clubs. Also honoured are players who were just embarking on their professional careers but were never able to fulfil their potential because of the unimaginable horrors being faced during the bloody battles that raged between 1914 and 1918.
Each of the players honoured has a different tale to tell, although so much at the start of their short and highly-talented lives had been so positive, beginning with their childhood, the journey they made to become a member of the elite Northern Union club, their experiences at the top level of the game and finally their enlistment into the British Army which would ultimately lead to their death as they all made the Greatest Sacrifice.
People who bought this item also bought