13 Inspirations – The Guiding Lights of Rugby League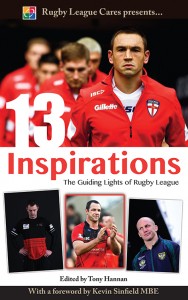 Edited by Tony Hannan. Foreword by Kevin Sinfield MBE.
13 Inspirations is a lively collection of essays by many of the leading writers and personalities in rugby league. With proceeds going to Rugby League Cares - a charity devoted to ensuring the welfare of the game's wider community - it tells 13 fascinating stories about 13 of rugby league's most inspirational personalities.
From the early days of the Northern Union, icons like Albert Baskerville and Lance Todd spring to life. From more recent history, heroes like Mike Gregory, Steve Prescott MBE and Darren Lockyer feature. And from modern-day Super League come Adrian Morley, Jamie Peacock MBE and others.
Edited by Tony Hannan with a foreword by Kevin Sinfield MBE, and including contributions from Jamie-Jones Buchanan, Jon Wilkin, Dave Hadfield and Brian Noble among a host of authorities on the sport, 13 Inspirations celebrates the game's guiding lights in a way that no one who cares for rugby league will want to miss.
Rugby League Cares - Supporting rugby league's broad community. Past, present and future.
People who bought this item also bought