Through Adversity – The Fight for Rugby League in the RAF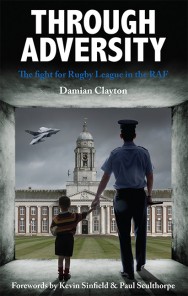 By Damian Clayton, with Daniel Abrahams
Includes forewords by Kevin Sinfield and Paul Sculthorpe
Through Adversity is the story of Damian Clayton MBE, whose relentless pursuit of the rugby league dream has seen him brush shoulders with royalty, tour the world, receive a gong in 2008 and be voted Combined Services Sports Official of the Year.
Despite having long since achieved his main goal - to see his beloved rugby league recognised officially by the Armed Forces - the inspirational Royal Air Force Flight Sergeant continues to give his all to the sport he loves.
Clayton, the RAF's 'Mr Rugby League', has been on a long journey. Since 1992 he has worked tirelessly to ensure the sport he has graced as player, administrator and coach is given the same official recognition that dozens of other sports that military personnel take part in - such as football, cricket and tennis - take for granted.
In the 1980s, military sport in the UK was run on traditional lines. Rugby league was not recognised, even if many within the services yearned to play it. One man changed all that. Damian Clayton, a young airman from West Yorkshire, did not (and still does not) take no for an answer. Battling against incredible odds, his passion for the game, ability on the pitch, organisation and persuasion skills were matched by grit, determination, a bit of cheek and the odd bit of low cunning. What's more, he succeeded. Over one thousand servicemen and women now play rugby league in all three Services. Through Adversity highlights the highs and lows, the thrills and spills of the journey. The UK Armed Forces were Services World Cup Champions from 2008 to 2013; in the UK the relationship between military players and officials is exceptional. This unity of effort and purpose is exemplified by the force of nature that is Damian Clayton. I commend this book to anyone who is interested in success against the odds and a ripping good yarn! Air Chief Marshal Sir Stuart Peach KCB CBE ADC BA MPhil DTech DLitt FRAeS RAF, Vice Chief of The Defence Staff
People who bought this item also bought