Categories
My Autobiography – Paul Ingle
With a foreword by Kellie Maloney
Growing up on one of Scarborough's toughest estates, Paul Ingle put on his first pair of boxing gloves at the age of seven.
Known by fans, foes and friends as 'The Yorkshire Hunter' he fought almost 200 times as an amateur, representing his country in every major international tournament and, in November 1999, beat Manuel Medina for the IBF featherweight world title.
Months later, in front of a packed crowd at Madison Square Garden, Paul came off the canvas and stopped Junior Jones in an eleven-round epic to add the IBO belt.
In December 2000, he fought Mbulelo Botile in what ought to have been a straightforward defence. But then, knocked down in the twelfth, Paul was rushed to hospital where he had emergency surgery to remove a blood clot from his brain.
The Yorkshire Hunter tells the story of an endearing and enduring man who never left his roots. With a foreword by Kellie Maloney, this is the tale of a fighter whose fiercest battle was outside the ring.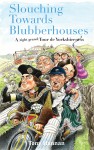 As seen and heard on the BBC and Sky News…
By Tony Hannan
Yorkshire … God's Own County … The Broad Acres … the Texas of England … a home to some of the UK's most captivating landscapes, coastlines, food, literature, history, music, tea, film, sport and beer, when Britain's largest county and its residents get you in their grip, you are unlikely to escape soon.
Phenomenally successful venue for Le Grand Départ and only recently voted the Leading Tourist Destination in Europe – beating off the likes of Paris, Rome, London (ha!) and Vienna – the eyes of the world are on the land of the White Rose like never before.
Slouching Towards Blubberhouses is a timely, in-depth and very often comical look at a county that is by turns friendly, uncompromising, boastful, blunt and maddeningly self-aware. It digs beneath the eeh bah gum clichés of whippets, clogs, flat caps and moth-eaten wallets to explore what really makes Tykes tick. And it wonders whether coming from Yorkshire still means owt in the socially diverse 21st century.
So what are you waiting for? Enough with the chelpin' and get on your bike. We're off on a right grand Tour de Yorkshireness.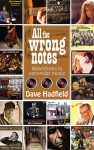 "…a very very funny and informative book . If you like good writing and folk music then you will love this." – Norma Waterson
By Dave Hadfield
With an introduction by Bernard Wrigley
For almost 50 years, Dave Hadfield has followed the genres of music that grabbed his youthful heart and mind. Now, in ALL THE WRONG NOTES, he has written not just a musical memoir, but a personal and social history of the last half-century.
Like a Zelig with a finger in his ear, he has been where folk music has happened and describes it, affectionately but warts-and-all, in a way it has never been described before.
Hadfield's sure ear for quirks and eccentricities produces unique takes on major figures like Bob Dylan, Ewan MacColl and Leonard Cohen. It celebrates the foot-soldiers and their role in keeping left-field music alive.
Humorous and provocative in equal measure, ALL THE WRONG NOTES is the key to a fascinating world of music.
DAVE HADFIELD has been a journalist and author for 40 years. This is his eighth book. He lives in Bolton with his wife, various children and an alphabetical CD collection.