Last One Out…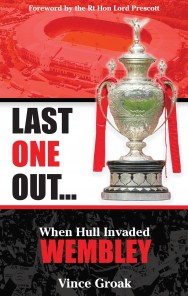 When Hull Invaded Wembley
By Vince Groak
With an introduction by the Rt Hon Lord John Prescott
Hull, 1980. The fishing industry is in terminal decline, the Humber Bridge still unfinished. A depraved killer is on the loose and Hull City FC look doomed to relegation. But, on a long Bank Holiday weekend in May, all thoughts turn to Wembley ... chance for ultimate bragging rights.
Against a backdrop of a dramatically changing city, Last One Out... traces the story of how Hull's two rugby league teams emerged from mid-seventies gloom to take their place at the very top of the game – exerting a dominance over the sport that others would follow.
Featuring first-hand interviews with players, officials and supporters, this is the definitive history of the ultimate rugby league derby; the early rounds and the draw that kept them apart, the clamour for tickets, the divided families and that famous sign on the road heading south. It tells of Roger's joy, Sammy's despair and the story behind 'that try'.
Later, there was the pride and emotion of the homecoming. Later still, the game entered history, spelling joy for one side, despair for the other and encapsulated in a song the losers were taunted with until another dramatic Wembley victory more than three decades on.
More than just a derby, more than just a cup final, this is the story of an exodus: the day Hull invaded Wembley.
People who bought this item also bought