All the Wrong Notes – Adventures in Unpopular Music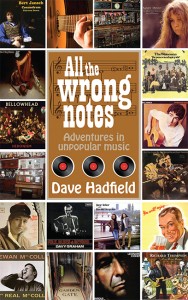 "...a very very funny and informative book . If you like good writing and folk music then you will love this." - Norma Waterson
By Dave Hadfield
With an introduction by Bernard Wrigley
For almost 50 years, Dave Hadfield has followed the genres of music that grabbed his youthful heart and mind. Now, in ALL THE WRONG NOTES, he has written not just a musical memoir, but a personal and social history of the last half-century.
Like a Zelig with a finger in his ear, he has been where folk music has happened and describes it, affectionately but warts-and-all, in a way it has never been described before.
Hadfield's sure ear for quirks and eccentricities produces unique takes on major figures like Bob Dylan, Ewan MacColl and Leonard Cohen. It celebrates the foot-soldiers and their role in keeping left-field music alive.
Humorous and provocative in equal measure, ALL THE WRONG NOTES is the key to a fascinating world of music.
DAVE HADFIELD has been a journalist and author for 40 years. This is his eighth book. He lives in Bolton with his wife, various children and an alphabetical CD collection.
People who bought this item also bought