autobiography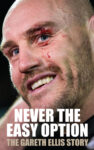 The Gareth Ellis Story – with Vince Groak
A shy, introverted rugby league-loving boy conquered the sport on both sides of the world, reaching the summit of the game while continually doubting himself.
Always prepared to work the hardest to achieve his goals, four times he faced life-changing decisions; to leave Wakefield, who gave him his start; depart from Leeds, when part of the club's 'golden generation'; turn his back on the NRL while at Wests Tigers, despite being the club's player of the year on three consecutive occasions; and to choose Hull FC on his return to Super League.
On each occasion, as he reveals in candid detail, he never took the easy option. This book is the story of his glorious career, including the brave decision to come out of retirement in 2019.
Unashamedly open and honest, Ellis defines the nebulous concept 'club culture'; reflects on his sacrifices to become one of the game's most revered talents; how the international game – where he won 38 caps – must be improved; and reiterates that his sole aim in over 480 career appearances was to be the kind of player that others wanted beside them.
Never The Easy Option offers rare insight into what it takes to be a professional sportsman.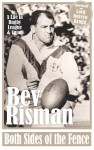 By Bev Risman
With a foreword by Lord Melvyn Bragg
Paperback, 216pp.
At the start of a glorious and varied career, Bev Risman faced two major dilemmas. Should he represent his ancestral homeland Wales or England, his country of birth? Ought he to play rugby league or rugby union? Son of league icon Gus, Risman made his name in the fifteen-a-side code, playing for England and touring with the 1959 British Lions.
Later, after initially moving to rugby league with Leigh, he enjoyed huge success at Leeds, with whom he played in the famous Watersplash Challenge Cup final at Wembley. He was top goal-kicker in the league for three years and became a dual-code tourist while captaining the 1968 Great Britain side in the World Cup in Australia.
Upon retirement, Risman became rugby league's first ever development officer in the South of England. He was appointed director of the Student Rugby League, became a founder member of the charity Rugby League Cares and, in 2010, enjoyed a year as President of the RFL and was awarded the OBE for services to the game.
An all-round sportsman, Risman also worked for the Lawn Tennis Association and was technical director of David Storey's rugby league-based play The Changing Room in London's West End.
Both Sides of the Fence is his autobiography. A fascinating insight into decades of great change, it lays open the events and personalities that have dominated both codes of rugby.
The eagerly-awaited sequel to The Woman Without A Number
Iby Knill is remarkable. An Auschwitz holocaust survivor from Bratislava, she married a British army officer and set out to make a new life in England, arriving in Cornwall in 1947 to set up home.
After struggling to integrate as an immigrant in post-war Britain, she went on to raise a family and carved careers in civil defence, education, textile design and as a linguist, before gaining an MA, aged 80. The loss of her beloved Bert prompted thoughts of writing, but there was a stumbling block: 60 years of suppressed memories.
Now in her 90s, Iby has since overcome several breakdowns but remains determined to share her experiences with future generations. This eagerly-awaited sequel picks up where her best-seller, The Woman Without a Number, left off. It tells the stories of her brother, father and mother – whose indominability she has inherited – and evokes changing times through a life that has embraced challenge and opportunity.
Poignant, moving and searingly honest, The Woman With Nine Lives is confirmation that the past cannot be avoided but, when the very best of human nature is on display, a brighter future can always lie ahead.