Hull FC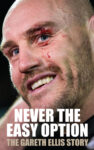 The Gareth Ellis Story – with Vince Groak
A shy, introverted rugby league-loving boy conquered the sport on both sides of the world, reaching the summit of the game while continually doubting himself.
Always prepared to work the hardest to achieve his goals, four times he faced life-changing decisions; to leave Wakefield, who gave him his start; depart from Leeds, when part of the club's 'golden generation'; turn his back on the NRL while at Wests Tigers, despite being the club's player of the year on three consecutive occasions; and to choose Hull FC on his return to Super League.
On each occasion, as he reveals in candid detail, he never took the easy option. This book is the story of his glorious career, including the brave decision to come out of retirement in 2019.
Unashamedly open and honest, Ellis defines the nebulous concept 'club culture'; reflects on his sacrifices to become one of the game's most revered talents; how the international game – where he won 38 caps – must be improved; and reiterates that his sole aim in over 480 career appearances was to be the kind of player that others wanted beside them.
Never The Easy Option offers rare insight into what it takes to be a professional sportsman.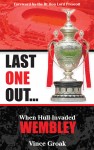 When Hull Invaded Wembley
By Vince Groak
With an introduction by the Rt Hon Lord John Prescott
Hull, 1980. The fishing industry is in terminal decline, the Humber Bridge still unfinished. A depraved killer is on the loose and Hull City FC look doomed to relegation. But, on a long Bank Holiday weekend in May, all thoughts turn to Wembley … chance for ultimate bragging rights.
Against a backdrop of a dramatically changing city, Last One Out… traces the story of how Hull's two rugby league teams emerged from mid-seventies gloom to take their place at the very top of the game – exerting a dominance over the sport that others would follow.
Featuring first-hand interviews with players, officials and supporters, this is the definitive history of the ultimate rugby league derby; the early rounds and the draw that kept them apart, the clamour for tickets, the divided families and that famous sign on the road heading south. It tells of Roger's joy, Sammy's despair and the story behind 'that try'.
Later, there was the pride and emotion of the homecoming. Later still, the game entered history, spelling joy for one side, despair for the other and encapsulated in a song the losers were taunted with until another dramatic Wembley victory more than three decades on.
More than just a derby, more than just a cup final, this is the story of an exodus: the day Hull invaded Wembley.