Leeds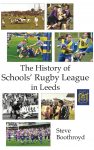 Published 13 July 2021
by Steve Boothroyd
From the early Cup-winning Bramley National and Hunslet Carr teams, through some outstanding Hunslet and Leeds representative sides, to the modern-day national girls' champions from Corpus Christi, there is a rich and proud history of schools' rugby league in the city of Leeds.
The History of Schools' Rugby League in Leeds catalogues the story of the game in words and photographs – reflecting on the changes, highlighting influential teacher-coaches and administrators, and of course focusing on the many schools and teams that have played the sport since the first organised competitions in the early part of the twentieth century.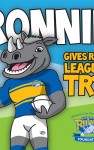 Author: Leon Crick. Illustrations: Dave Bull.
Learn to read with Ronnie the Rhino! RHINOS READING is a project launched by Leeds Rhinos Foundation that aims to support children's literacy and introduce them to rugby league via stories featuring the superstars of the club – and this is the first book in the new series. Who better than the world's most famous rugby league mascot to launch it?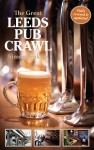 By Simon Jenkins
Join the Yorkshire Evening Post's award-winning beer writer Simon Jenkins on a criss-cross pub crawl through Leeds, calling in at dozens of popular watering holes.
Along with descriptions of the beers, pubs and adventures the author encounters along the way, The Great Leeds Pub Crawl also contains fascinating asides about local history, the story of brewing in the city, and it suggests plenty of alternative routes to keep even the thirstiest pub-crawler satisfied.
Comprehensively revised and updated, with even more magnificent colour photos, this is a book that no visitor to – or resident of – Yorkshire's biggest city can afford to be without. An ale trail with a difference, it looks at no less than 63 pubs in detail and many more in passing.
This is an entertaining, informative and at times surprising tour of one of Britain's most vibrant metropolises. Whether you are after a quiet pint, a lively night out, a chat with friendly locals, the odd cocktail or a quality bite to eat, The Great Leeds Pub Crawl is the guide for you.