schools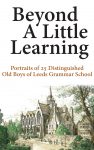 By Neill Hargreaves
Beyond a Little Learning is a collection of biographies of 25 of the most distinguished Old Boys of Leeds Grammar School, charting their education there as the foundation for the impact they have made nationally and internationally in later life. Written by the former English teacher and senior librarian at the school, Neill Hargreaves, who is currently the joint-archivist of its successor GSAL – where the motto is 'Be Inspired' – this is a collection of lives humbling and inspiring in equal measure.
The book covers such fields as medicine and engineering, science, politics and law, the military and religion, art and music, literature and journalism. From John Harrison, John Smeaton and Field Marshal William Gustavus Nicholson – who all have school Houses named after them – through Barons and Knights of the realm, to entertainers Barry Cryer and Ricky Wilson, all aspects of the school's 450 years of known history are celebrated in these pages. The portraits – encompassing astonishing feats that include lighthouse building, composition, horology, heart surgery and intelligence – offer fascinating insight into a group of men of vision, entrepreneurial spirit and deep-rooted commitment to others. Every one of these Old Boys of Leeds Grammar School made an impact that was – and is still – felt far beyond the boundaries of Leeds.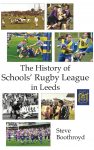 by Steve Boothroyd
From the early Cup-winning Bramley National and Hunslet Carr teams, through some outstanding Hunslet and Leeds representative sides, to the modern-day national girls' champions from Corpus Christi, there is a rich and proud history of schools' rugby league in the city of Leeds.
The History of Schools' Rugby League in Leeds catalogues the story of the game in words and photographs – reflecting on the changes, highlighting influential teacher-coaches and administrators, and of course focusing on the many schools and teams that have played the sport since the first organised competitions in the early part of the twentieth century.