social history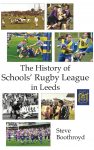 by Steve Boothroyd
From the early Cup-winning Bramley National and Hunslet Carr teams, through some outstanding Hunslet and Leeds representative sides, to the modern-day national girls' champions from Corpus Christi, there is a rich and proud history of schools' rugby league in the city of Leeds.
The History of Schools' Rugby League in Leeds catalogues the story of the game in words and photographs – reflecting on the changes, highlighting influential teacher-coaches and administrators, and of course focusing on the many schools and teams that have played the sport since the first organised competitions in the early part of the twentieth century.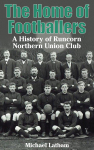 A History of Runcorn Northern Union Club
by Michael Latham
Runcorn was a hotbed of rugby in the late Victorian era, the town's club a proud founder member in 1895 of the Northern Union – the breakaway game that became known as Rugby League.
Yet that great rugby tradition was ended by the First World War, with devastating effects for many Runcornians, including members of the rugby club, who served and lost their lives.
Runcorn nurtured ten international rugby players in total, all but one born within a few hundred yards of the Irwell Lane ground.
Respected sports writer and historian Michael Latham recreates those far-off days when the oval ball dominated and the town's heroes included Harry Speakman, a member of the first rugby tourists to Australia, Sam Houghton, Jimmy Butterworth, Jimmy Jolley and Dick Padbury, among just a few in a gallery of colourful characters, the rugby league superstars of their day.
With a detailed biographical and records section to complement the deeply researched narrative, this is one of the most comprehensive histories ever written about the Northern Union and contains around three hundred photographs.
Harry Price was once a promising Runcorn player, snapped up by Wigan in 1906, where he became a highly regarded and popular player and captain. The report announcing his signing in the Wigan newspaper had a simple, approving testimonial: "Price was born in Runcorn, the home of footballers." Hence the book's title.