true life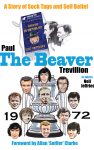 PUBLISHED 31 JANUARY 2022 – BUY NOW TO RECEIVE A SIGNED COPY
A STORY OF SOCK TAGS AND SELF-BELIEF
As told to Neil Jeffries
Foreword by Allan 'Sniffer' Clarke
Imagine a world without 'Marching On Together', sock tags and Target Balls…
Imagine a world in which pre-match warm-ups and football shirts with the player's name on the back never existed…
Imagine a world without Paul 'The Beaver' Trevillion… and that would be today's world.
Although first and foremost an artist, Paul 'The Beaver' Trevillion is a man with brilliant ideas. His long career has introduced him to all the world's leading sportsmen, as well as royalty and politicians, and given him unique insights, drive and self-belief.
Those qualities and ideas he took to Don Revie in 1972, aiming to improve the image of the club and bring the players closer to the fans. Inventions such as sock tags, Target Balls and a hit single that became an anthem are remembered and loved to this day. New concepts including pre-match warm-ups and putting a player's name across his shoulders proved Trevillion was decades ahead of his time.
In fact everything he suggested worked and together his efforts turned Leeds United into the world's first modern day football club. And it only took him 50 days. Now, 50 years later, all the incredible secrets of that brief but unforgettable time are revealed…
Size – 218 x 22 x 284. Hardback – 176 pages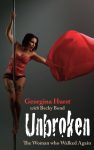 By Georgina Hurst, with Becky Bond
On four occasions the life of Georgina Hurst has been drastically changed by events outside her control – but she has dealt with the implications head-on.
Most significant was the road smash that had apparently destroyed all her hopes and dreams, while as a passenger in a car driven by the man she thought she loved – and even returned to afterwards. Brought back to life four times, George suffered injuries in the crash so horrific and shocking her friends and family were told by surgeons to expect the worst. Yet it turned out to be the making of her – she would never have discovered a passion and talent for pole dancing otherwise.
This is George Hurst's story of facing pain and the truth as physical rehabilitation forces her down a revelatory path of self-discovery; one which is still going on today, including surviving sepsis during the time of Covid. She can't change her past, but with a defiant two fingers to self-pity, George's future remains fearless – and her outlook on life inspirational.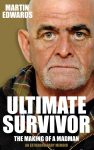 PAPERBACK
by Martin Edwards
For Martin Edwards – Royal Marine, Special Forces survivor, soldier of fortune, thwarter of terrorists and much much more besides – life has been one big world of trouble.
The product of cruel parents in Rhyl, this born rebel's escape was a long time coming. But once it was engineered, the road that opened up took him from North Wales to the high seas to Disney World Florida (thrown out, naturally), to undercover work in Northern Ireland and, ultimately, counter-insurgency in the likes of Abu Dhabi, Uganda and Otterton, a previously peaceful village in Devon!
Brutally beaten as a child – and attempting suicide at the age of twelve – he somehow retired as a multi-millionaire, but not before carving an equally remarkable trail through locations as diverse as deepest Dartmoor, Bogside, Kampala and the City of London, in the company of a colourful cast of characters.
Featuring a lively array of mind-boggling adventures, the majority laced with dark humour, Ultimate Survivor tells a story like no other. It is an X-rated tale of warship sieges, sexual abuse, hair-raising IRA ambushes, a death-defying run-in with notorious Sinn Fein politician Martin McGuinness, military coups, encounters with celebrity and a job as bodyguard to Prince Bandar of Saudi Arabia. You are unlikely to have read a memoir quite like this one.
All profits from the sale of this book will be donated to charities supporting military mental health and vulnerable children