Different Class – The Story of Schools Rugby League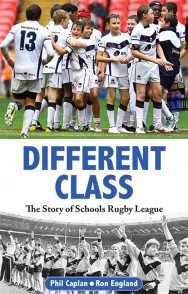 By Phil Caplan and Ron England
With a foreword by Neil Fox MBE
Around the turn of the 20th century, schools rugby league was formalised. Compiled from a nationwide archive, Different Class puts a long and illustrious history in context, capturing its flavour with an array of colourful contributions.
Examining the communities from which it sprang, neighbourhood rivalries, prevailing social conditions, stories of overcoming great odds and trips into the unknown, it traces the pioneering spirit that has characterised the schools game, and the role played by teachers as mentors and inspiring personalities.
Mixing fact and anecdote, the book contains a wealth of reminiscences from some who went on to become superstars of the sport, alongside those for whom the school playing field was their zenith.
People who bought this item also bought